One of the most profound gifts that you can gift to yourself on this priestess path of devotion is to begin a sacred relationship with the holy oils that are so devotedly curated and created by my incredible treasured sister Diana Dubrow.
The process of creating the Emerald Temple oils begins with deep prayer and ceremony. Diana custom blends the purest high-frequency, organic essential oils to attune and balance your physical and emotional bodies.
Each of the original seven blends corresponds to a specific energy center of the body and are used for personal use and for professionals in the healing arts. The scents evoke emotional and spiritual awareness while supporting vibrant health and a deep sense of well being.
We explore these oils + the sacred path of the Scent Priestess in depth in our Rosa Mystica Mystery School each one is an incredible alchemical elixir of the highest quality organic oils.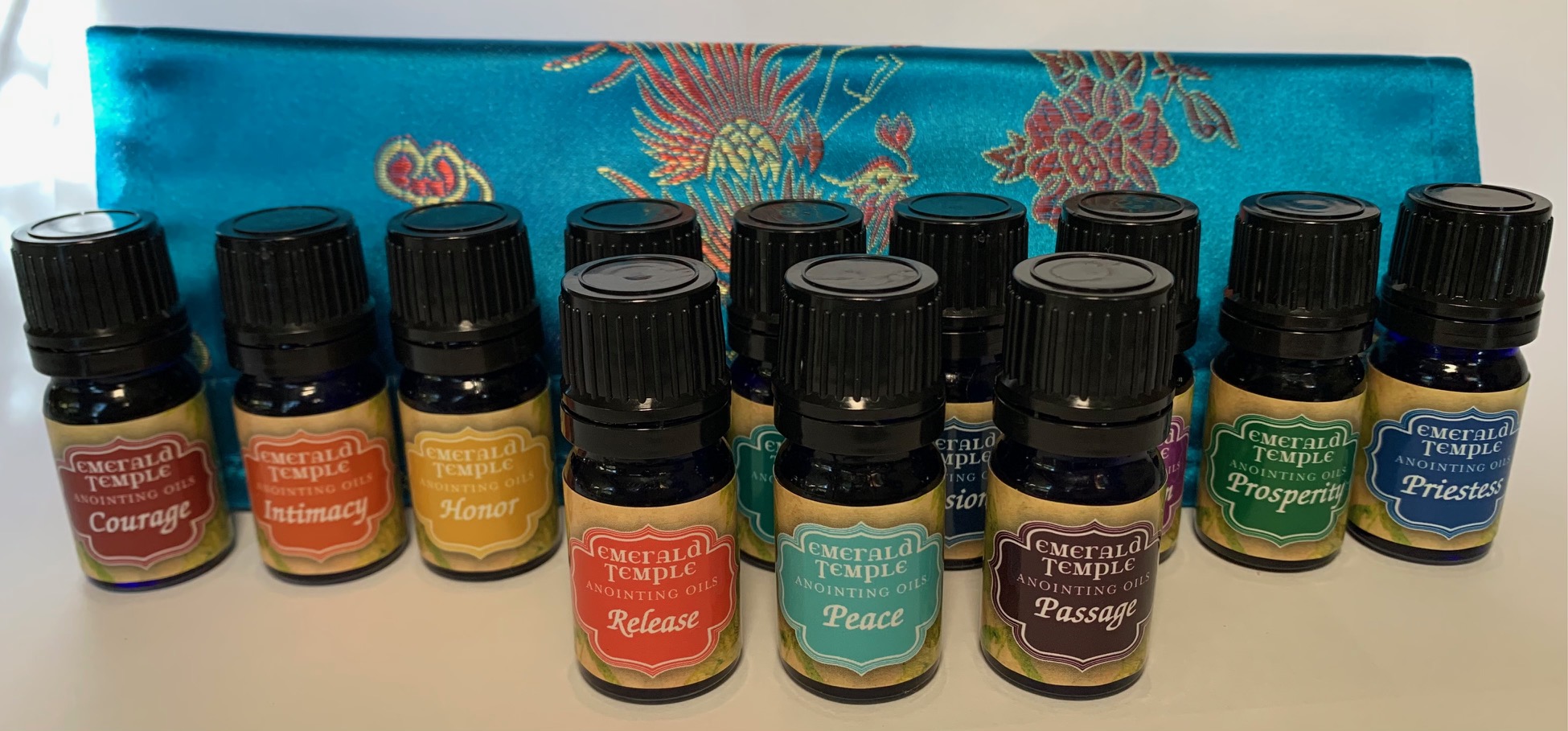 "Anointing yourself with Emerald Temple oils is an embodied prayer, a kiss of spirit on your body!"
I can honestly say that these oils have been by my side during some of the most intense passages of my life ( misscarriage, loss of my mum) and supported me to move through grief and loss in such a profound way. They have also been by my side in the most intimate and beautiful moments of my life ( assisting dearest ones in giving birth, deep and intimate love making, self love rituals) – they have become an intimate and potent part of my everyday life.

Rosa Mystica Heirloom Oil
Rosa Mystica is the Emerald Temple's heirloom oil. Born of the initiatory journey into the heart of the sacred Magdalene, this chrism was brought forth to honor, protect, empower, and hold those who are walking a sacred path. The alchemical formula for this holy chrism is a trinity of the rarest Rose oils; White Rose Otto, Pink rosa centafolia, and Bulgarian Red rosa damescena. Every precious drop of each rose oil is birthed from 2000 petals.
Rosa Mystica is the oil used by the Sisterhood of the Rose . It is the anointing oil of blessing, consecration, purification and healing. The alchemical frequencies of this trinity create a field of protection and empowerment. As the oil touches the skin and the scent is inhaled the fragrance and frequencies awaken deep healing and mystic love.
This mother oil was consecrated and blessed by the Scent Priestesses and Priest of the Emerald Temple whose prayers and devotion sanctified the oil in the tradition of the ancient mystic temples from around the world.
Rosa Mystica anointing oil is the nectar of love.
5 ml bottle
Find oils here.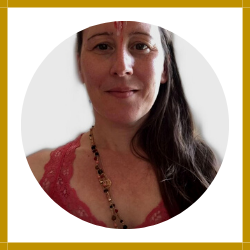 Diana's many years of experience in the field of anointing and body alchemy are such a joy to immerse yourself in!
Working with the oil blends is life changing and the lightning path of initiation via the senses.
Her dedication to service is felt so deeply as you bless your body and her understanding of which oil symphonies are required to raise your vibration is unparalleled.
Each blend is beautifully crafted and created from the highest quality oils available, to transport you into the mystery of self, clearing anything that is in the way of love, to then bring harmony to your vessel.
I'm so grateful, honoured and deeply humbled by the experiences that I have had the pleasure to engage in and the parts of me that have been returned since I began my journey with her and her work many moons ago.
Jacqueline Eva Rose Shenton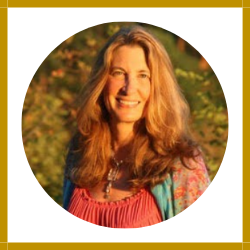 Diana DuBrow's holy oils are a gift of alchemical magic, deep transformation, profound healing, and sacred awakening.
Exquisitely crafted with only the purest and highest frequency essential oils, these "liquid ethereals" are portals into the transcendent realms of Spirit, lifting you to your highest potential and aligning you with your heart's deepest desires.
Each beautiful oil is infused with Diana's unconditional love, immense compassion, and deep, healing wisdom drawn from her vast and luminous soul memories of her ancient Scent Priestess lineage.
I have never before experienced anything that can shift my energetic field, open my heart, expand my consciousness, and connect me to the mystical realms of the Divine more powerfully or quickly than Emerald Temple Holy Oils. They are truly gifts from the Goddess. Let them carry you home to your pure Divine essence.
Katherine Witteman

Diana's oils have helped usher me through portal after portal of healing and expansion into my true crystalline soul Priestess self, far more quickly than I could have done on my own! Each oil is an alchemical potion that is so intoxicating to the nose, it transports me immediately into the consciousness of my soul. But the true magic comes in when anointing with these oils as a daily devotional 30-day practice. Diana's gifts, presence and love comes through each drop of oil. I am so grateful to have had her and the oils as mentors and guides.
Charlotte Elea
Copyright © 2020 Priestess Presence Members. All rights reserved.